A Cozy Johnson City Texas Bed and Breakfast
The Pickett House Bed and Breakfast is a cozy yet modern cottage located just off the Hwy 290, better known as Wine Road 290, in the middle of Johnson City, Texas. This Bed and Breakfast is a great starting point for one of many Texas Hill Country adventures, easily conducted in a day. Your Texas Hill Country destinations might include; historic Fredericksburg, Marble Falls, Wimberley, San Antonio, Blanco or Austin, Texas. Perhaps you would like to spend your day in Johnson City where you could walk to President Lyndon B. Johnson's boyhood home and historical settlement and then spend your afternoon grabbing a bite to eat, enjoying a cold brew from Pecan Micro Brewery or shopping at one of the many stores located in Johnson City.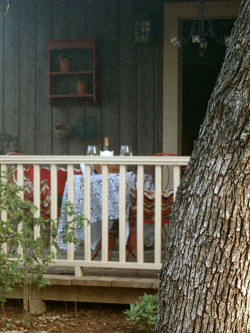 Love wine? Texas currently has over 275 bonded commercial wineries. There are more than 37 unique wineries scattered across the Texas Hill Country from Austin to Fredericksburg, Lampasas to New Braunfels. You will be able to chill your Texas Hill Country wine in our 9-bottle wine refrigerator when you get back to the cottage.
If you love nature, you can visit Pedernales Falls State Park, Lyndon B. Johnson National Park, Blanco State Park, or any one of the other six parks located within an hours drive from Johnson City.
The Pickett House was built in the early 1900's. Before we bought the house, our aunt and uncle, Barbara and Billy Pickett, owned the bed and breakfast cottage. And, prior to that the cottage was called Caroline's Cottage. At one time the bed and breakfast was a rental house in the 50's, charging $25 a month! There are stamps from the 70's throughout the house that we have left to add a bit of extra charm. All we added was a modern touch here and there to add appeal.
The back porch offers guests a place to have an intimate meal or conversation while a larger table offers the company of friends. Ease yourself into the swing at the end of the day to relax and take in a beautiful sunset or to look up at the stars. Come back to the swing in the morning and start off your day with a cup of coffee or tea while listening to the sounds of Johnson City.
We invite you to stay at The Pickett House Bed and Breakfast in Johnson City and enjoy a private vacation while feeling "at home".